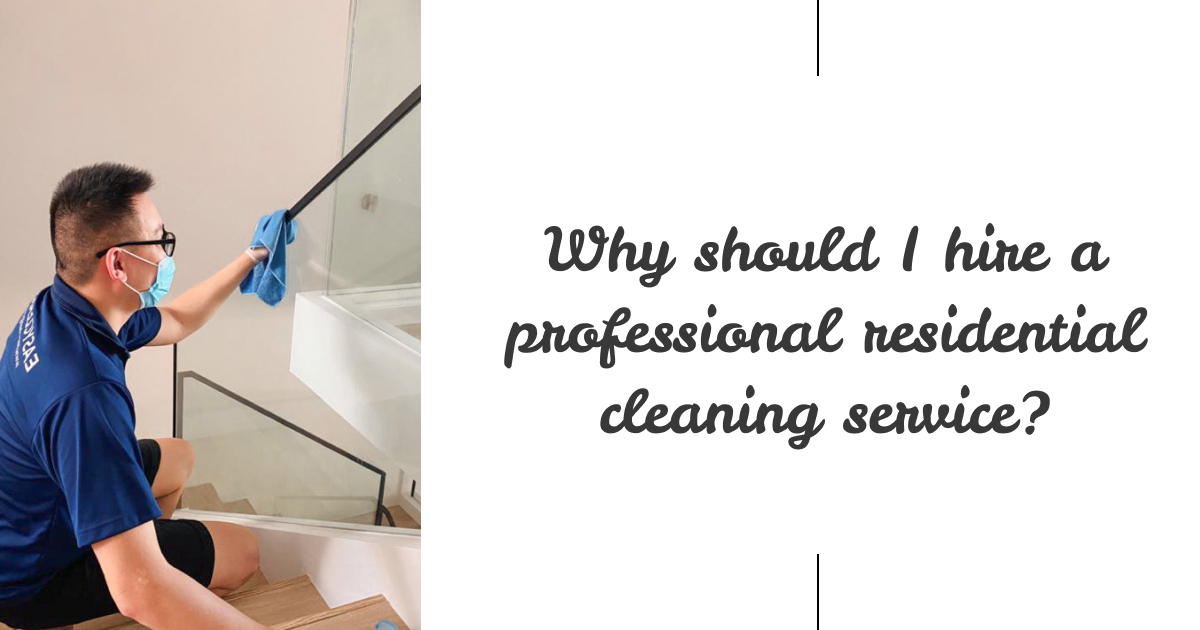 Due to their hectic schedules, Singaporeans might find it impossible to find the time to clean their homes. However, sacrificing cleanliness would only result in an unhealthy living environment.
You might be thinking, what are the options available to you?
One of the best courses of action is to hire residential cleaning services since the professional team of cleaners can help simplify your life starting by taking care of your day-to-day cleaning responsibilities.
You won't have to spend time dusting and cleaning as the cleaning team will keep your home neat and tidy when you return home.
Additionally, you'll have more time to spend with your family or on your hobbies after your working hours.
Wouldn't it feel like your stresses would have been taken away when you come home to a tidy environment?
Hiring one-time house cleaning services in Singapore is the ideal choice to meet your cleaning requirements efficiently. Regardless of whether you are planning a celebration or having unplanned guests over at your residents, having an extra pair of hands would always be helpful to get things done quickly.
If you find cleaning your home regularly to be draining and exhausting, this will no longer be one of your problems! Now, you can have cleaning services at your fingertips.
Our team at EasyClean SG provides expert house cleaning services for Singaporeans with busy, demanding lifestyles. Our team of specialised cleaning specialists are highly skilled, knowledgeable, and equipped with the right experience, materials, and equipment required to the job done. We will help ease your burden by providing you with top-notch housekeeping services.
The advantages of engaging residential cleaning services with an external cleaning agency will be thoroughly covered in this blog.
Having A Neat Home
The health of you and your family members is dependent on having a clean environment at home. The real challenge, however, is maintaining cleanliness on top of your busy schedule. The experts will be cleaning your house thoroughly using effective cleaning methods and provide you with peace of mind and a clean home to return to.
Not having to keep Unnecessary Supplies
If you intend to do the cleaning yourself, you'll also need to consider stocking up on a range of cleaning materials and equipment. The accumulated cost of purchasing these supplies might be expensive too. Therefore, hiring cleaning specialists might end up helping to save you money as the team will bring their own supplies to ensure the cleanliness of your home.
Specialized Service
Doing household tasks on your own is often a demanding task that is time-consuming at the same time. Hiring specialists will make this process much simpler for you. When you employ someone to take care of your home, they will always complete tasks thoroughly and according to your high standards. The team here at EasyClean SG is a group of experienced individuals who strive to provide excellent cleaning services for your homes.
Time-Saving
You won't have time for yourself as cleaning an entire house can be a difficult and time-consuming task. You will become stressed out by spending your time outside of work having to clean your residences, which might result in a negative impact on your health. It is better for you to engage expert cleaners than spend your previous hours cleaning. The most up-to-date methods will be used by the team to clean your home and rid it of germs and other bacteria that might cause illnesses.
Hard to Reach Areas
There might some parts around your house, like ceiling fans, or the window grilles that are difficult to clean. However, you shouldn't ignore these areas as the dust and dirt might accumulate. Simply engage an experienced cleaning team and these hard-to-reach areas will be no mean feat to them at all. Your house will be clean and free of dust after the cleaning team is done.
Having Pets at Home
If you have a pet, you should be aware that if you don't keep your house clean constantly, it might be made challenging with pets at home. It might be hard to maintain the cleanliness of your home and take care of your pet at the same time. Thus, hiring external help can help maintain a constant cleanliness at your homes.
Get Rid of Mold, Bacteria, and Germs
You and your family might be bringing in dirt, dust and germs whenever you enter your house. It is important to maintain a clean house so you can rid your environment of germs and bacteria that might cause your family to fall sick. If you don't have the time to thoroughly clean your house, not to worry. The experts at EasyClean SG will maintain the cleanliness of your homes and take care of your family's health at the same time.
Eliminate Allergies
There are many children and adults who might be sensitive or allergic to dust, making it unhealthy for them to breathe in the dusty air. Professional cleaners will employ high-efficiency particulate air (HEPA) filters to remove dust and other particles from the air, enhancing the quality of the air in general. Hiring our experienced team will ensure that the right equipment is being avail of to keep your house dust free.
Personalized Cleaning Schedules
If you are looking for Singapore house cleaning services, great news as our local team is flexible and would be able to create a cleaning schedule that works for you. With the hectic Singaporean lifestyle, it might be hard to hire external help if your schedule cannot be accommodate to. Thus, it is important for that the EasyClean SG team create a cleaning schedule that is specially designed for our customers.
Conclusion
Regular home cleaning is referred to as "general housekeeping." Getting your house cleaned frequently is necessary to maintain a sanitary environment for your everyday life. The possibility of problems like mold or dust caused by Singapore's hot and humid climate can be reduced with a regular house cleaning service.
The emotional and mental stress of maintaining a clean home can be lessened by being able to engage reliable house cleaning service during busy periods in your life. You can also keep your home clean for the benefit of your family's health and well-being.
With the help of the EasyClean SG team, you can enjoy reliable and efficient cleaning services, anytime you need it. If you are looking for general, spring cleaning companies, move-in/move-out, end-of-tenancy, and post-renovation cleaning services, enquire with our team today.